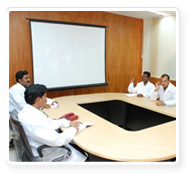 is India's highly progressive company involved in research, production and marketing of Active Pharmaceutical Ingredients, Pharmaceutical Pellets, polymers and Readymix. The product portfolio includes high quality active drugs, various sustain release and enteric coated pellets.
At

, the product development is a continuous process with utmost precision and responding as per the evolving requirements. The driving forces behind this enthusiastic approach is the quest to serve clients with the most dedicated and professional approach.
The company was established at Hyderabad in the year 2000 with its own state-of-art production facilities, diligent workforce and a world-class research and development center.

has global operations spread across several countries like Mexico, Brazil, Argentina, China, Thailand, Indonesia, Pakistan, Bangladesh, Hong Kong, Colombia, Chile, Guatemala, Uruguay, Syria and other emerging markets.